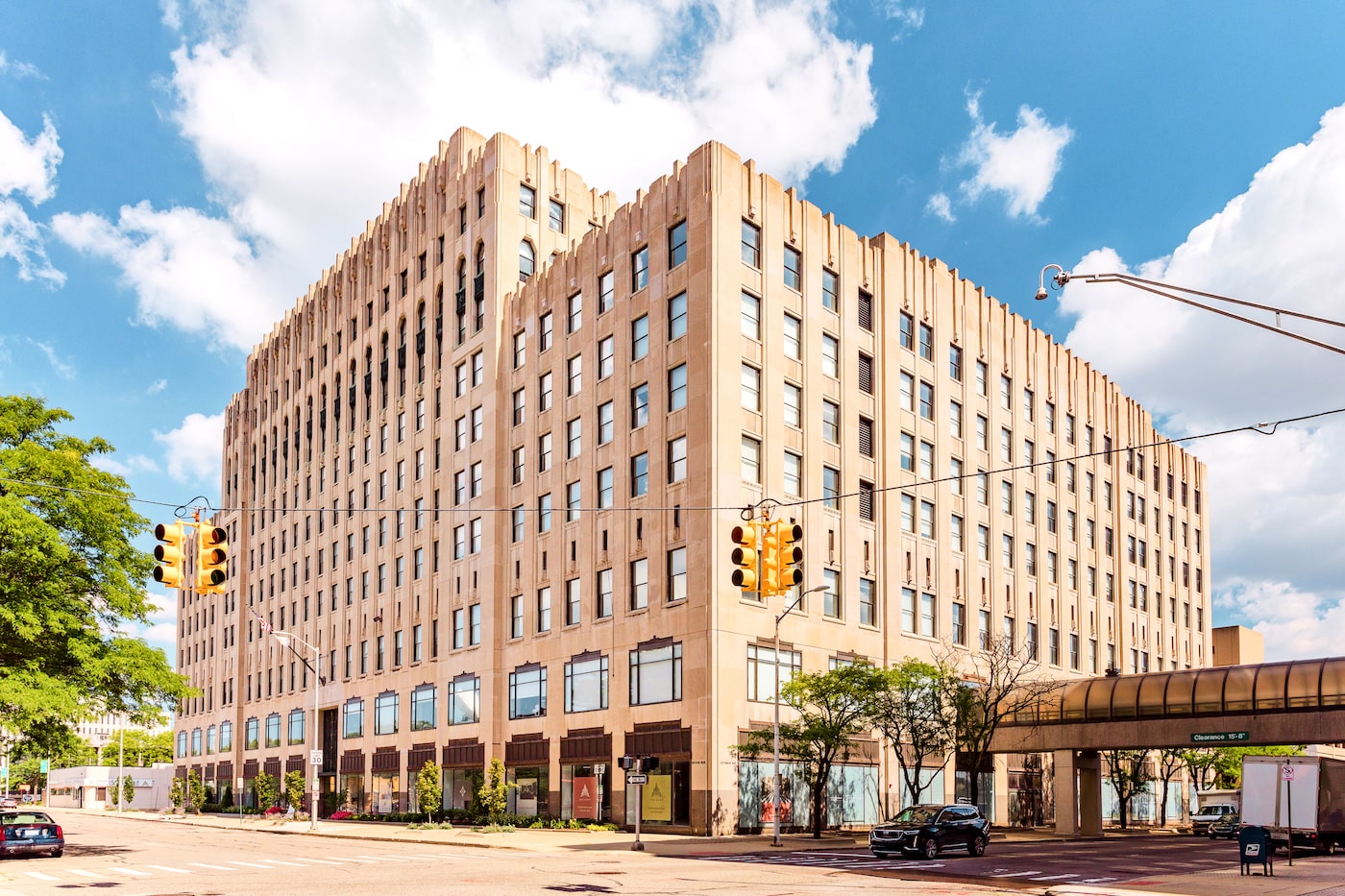 7430 2nd Avenue
New Center
Starting at $22/SF NNN
1,500 - 35,637 Square Feet Square Feet
Built In 1931 / 2020
Known as the "Architect of Detroit," Albert Kahn designed more than 100 buildings in his lifetime, including the iconic Fisher Building, the Free Press Building, and the Edsel & Eleanor Ford House. Though many of Kahn's designs were completed in the gilded age of the first quarter of the 20th century, he championed a style that balanced tasteful flourishes, transparency of purpose, and interesting construction methods, which he became particularly well known for as he pioneered the use of poured concrete forms rather than the more traditional wood framing.
Originally commissioned by the Fisher Brothers as the New Center Building, The Kahn first opened its doors in 1931 as an office building to some of the most prestigious firms in Detroit, including the architectural firm of Albert Khan himself, and later Saks Fifth Avenue. Given its proximity and its role in anchoring the New Center business district, this Art Deco building was designed to mirror the style of the Fisher Building without competing with its opulence and grandeur. In keeping with the tradition of the Fisher Building, The Kahn features an exterior of granite and limestone, rising 165 feet above the streetscape.
To recognize his firm's historic role as a pillar of the New Center commercial district, the building was officially renamed The Albert Kahn Building in 1980 and is on the National Register of Historic Places. In its new life as a residential building it is known as The Kahn, paying homage to the architect and offering a comfortable and personal experience.
The Kahn Building has been meticulously renovated with a thoughtfulness of bringing high-end retailers to the development. Designed by famous architect Albert Kahn it was home to iconic brands such as Saks Fifth Avenue and is prime for fashion houses, fine dining and boutique retailers. 7430 Second Street features martini column architecture, 16 foot ceilings, and expansive retail frontage. Suites start at 1,500 square feet with ample space for an anchor tenant; there's even a basement tunnel ideal for a speakeasy. The Kahn offers adjacent parking for tenants interested in bringing a destination concept to the building.
Vincent Mazzola
313 704 2678
vincent@oconnordetroit.com
Melissa Price
313 421 1557
melissa@oconnordetroit.com